On the occasion of the release of the Netflix movie « The House », produced by Nexus Studios, today we have the pleasure to interview Marc and Emma, who directed the first story of the movie.
Emma De Swaef and Marc James Roels are a Belgian filmmaking duo. Winner of many awards, praised by Oscar-winning director Barry Jenkins, Marc and Emma are arguably already big names and at the very least noticeable newcomers in the industry. With their recognizable puppets art style and indeniable and impressive talent in animation and story-telling, they have proven themself more than once.

And they accepted to answer a few questions for us today :
1- What gave you the hardest time during the filming of "The House" ?
It took us a while to get used to the bigger scale of things. We're very used to being very hands on: posing every puppet, every set, lighting and framing everything ourselves. With up to 15 sets going at the same time, this was impossible. It took us a while to make the transition, but it was very rewarding in the end. By the second half of the shoot it became so much less physically demanding, and it was lovely to see how the fantastic crew understood the style and pushed it to another level.
2- How much time did the pre-production take ?
A lot less time than it usually does for us! Charlotte Bavasso at Nexus Studios brought us together in May 2019 to come up with a pitch, pre- production was started in December 2019 and Niki started shooting in september 2020. Our shoot was the last to get going, we started in February 2021.This pre production period included writing the film, designing characters & sets, puppet build, storyboard & animatic + VO, all happening simultaneously, so it was very intense!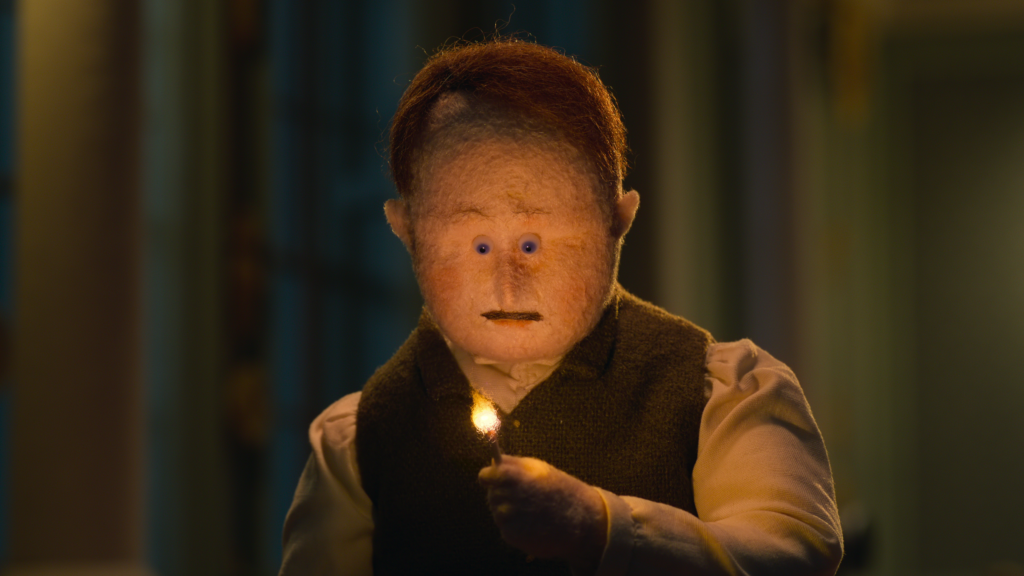 3- What was a typical day on the set of this movie ?
First thing in the morning we'd have a chat at the 'board' with our first assistant Leigh Manning. We'd record a few live action reference videos for the animators. Some of the sets would still be animated on, others need setting up and others need lighting or framing. Based on Leigh's priority we'd go from set to set to brief everyone, trying to 'launch' at least four new shots every day. Sometimes there would be a postproduction call with the guys in London, or a call with the Angela Poschet or Charlotte Bavasso at Nexus in London, to assess the progress and hear their thoughts.
4- Was there a lot of work in post-production for this movie ?
Not very much. It's a huge part of who we are as filmmakers to do as much as we can on set. The biggest challenge in this particular film was all the fire. We asked our animation director Tobias Fouracre to develop a flame sequence with tufts of wool- he loves practical effects too. DOP Malcolm Hadley then worked out a way of under lighting the flames, combined with preprogrammed flickering balls to simulate the effect of the fire on the puppets. We were all nervous about doing the effects on set together with the puppet animation, but we're so happy with the effect- you can really tell the puppets interact with the flames in the same space. 
5- How is the work split up between the two of you ?
Marc focuses more on writing & cinematography, I focus on puppets and sets- that's where our interests lie. But we brainstorm everything on the way and like to make all our decisions together.
6- Which part of your work do you prefer ? And why ?
We enjoy most aspects of our process -in their own way- but we do really enjoy the very beginning of the process when we have an idea that we find interesting and exciting. At that point there are so many possibilities and it seems like the film could become anything, maybe even the best thing ever! Of course coming up with good ideas is still very difficult and the work needed can be quite intense but nurturing the spark of an idea is always very exciting for us.
7- What are your sources of inspiration ?
We've found that inspiration can come from absolutely anywhere, it would be so easy if it came from one place! Sometimes there's something in a book we've read or a film we've seen or a puppet that Emma has made. One project was inspired by a very spectacular and bloody wrestling match that we saw in Tokyo. We just have to constantly keep our eyes, ears and mind open.
8- What advice would you give to newcomers in this field?
Basically just try and make stuff anyway you can. Our first attempts at stop-motion were very primitive and we only had access to very basic materials, some of our sets were lit using an old desk lamp, but somehow that was enough to make a film that got noticed.
Equipez-vous pour le stop motion :